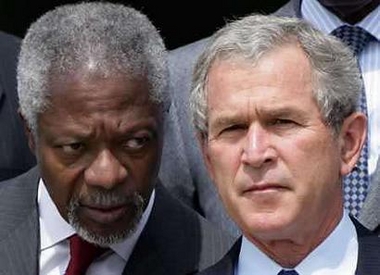 One of the smartest and most experienced lawyers around,
Ed DeLaney
, talks about the outlook for the United Nations as the Indiana Council on World Affairs kicks of its "Great Decisions" series
When: Tuesday February 7, registration at 7:00, program runs 7:30-9:00 PM
Where:
Butler University, Pharmacy Building
Bold plans for UN reform lost much of their substance before reaching the 2005 World Summit, but many continue to hope that prospects remain good for securing advances in development and humanitarian programs. Both its supporters and critics recognize the United Nations as an organization in need of critical changes. Disagreements about intervention in Iraq, the oil-for-food-scandal and management issues have fueled the debate about the UN's ability to take on global challenges. What reforms are needed to make the UN more effective?
Ed DeLaney has taught me just about
everything worthwhile that I know
about the problems with the UN. He has been on the ground, building new legal systems with the cooperation and obstruction of the UN, and thus brings an utterly refreshing perspective to the question. So here are some questions you should expect Ed to answer: What should be the role of the UN Security Council? How much should the US bind itself by Security Council resolutions (or lack of resolutions)? What does the UN do well, and what does it do poorly? Are Americans correct to worry that international law will trump US law, and thus that multilateral organizations such as the UN or the International Criminal Court will supplant the democratically elected government of the United States?
The ICWA's Great Decisions series is free for students. For ICWA members, the series costs $9 for an individual and $14 for couples. For non-members it's $12 for individuals and $17 for a couple. Attending single sessions costs $5. You should get the book of eight fine articles that goes along with the series, it costs $12. Any questions? Contact Mitzi Graham 317-872-4004.
If you like this event, you could hear Ed Delaney talk about UN reform again on May 17. Ed will bring a lawyer's perspective to issues of US policy: you might also be interested in talks about the US-led war on terrorism and international law by
Fran Quigley on March 14
and
April 12
.
Sheila Kennedy discusses a similar topic March 1
. And on
February 19 Sen. Richard Lugar
is sure to say some interesting things about the topic.
Want to know more about what is happening with UN reform? Check out recent news articles from
Google
or
Yahoo
. The UN keeps you up to date about
its reform process
. The
United Nations Association of the USA (UNA-USA)
is a leading center of policy research on the U.N. and global issues; the
United Nations Foundation
is another.
Global Policy Forum
has collected resources about UN reform. Looking for a source less supportive of the UN? Try the
Heritage Foundation
.
Looking for a local expert on UN reform? You can contact
Ed DeLaney
, or get a hold of
John Clark
who can suggest several.
Return to
Navigating IndyBuzz
Return to
Themes underpinning IndyBuzz